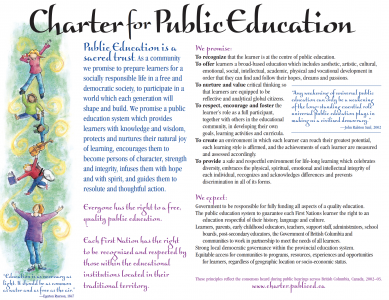 In 2003, British Columbians expressed their hopes and dreams to a panel travelling the province working to develop a framework for future decisions about public education. The panel members heard passionate dialogue about education from thousands of people in 42 communities around the province and received 620 written submissions. The full report from these consultations provided the basis for development of the Charter.
Although the Charter was an initiative of the BCTF, the panel represented a range of community interests. An Anglican priest, Rev. Margaret Marquardt, chaired the Charter panel. The other members were: Dr. John Moss, a former superintendent of schools; Kathy Whittam, a step-parent of a student with special needs; George Watts, former president of the Nuu-chah-nulth Tribal Council; and David Chudnovsky, past-president of the B.C. Teachers' Federation.
The result was The Charter for Public Education, published in 2003, as a starting point for dialogue and change in public education.
These questions were posed at each hearing:
What is an educated person; what are their characteristics?
Which of these characteristics are developed through the public schools?
What is an educated community?
What are the principles of public education?
The Charter was an inspiration for educators and communities beyond the borders of B.C., as well as a touch point for ongoing efforts to strengthen public education in B.C.  Its principles have stood up well over time.